Our vaccum and water trucks are available for nearly any job.
» Residential » Commercial » Industrial »
Vacuum Service & Water Hauling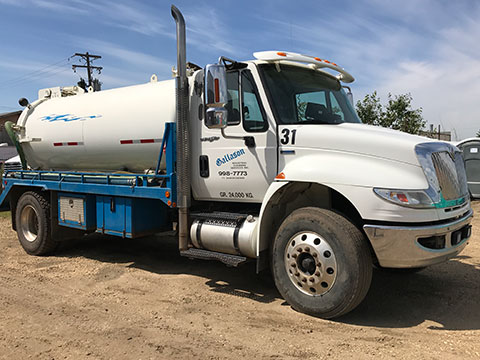 Gallason offers different types of vacuum and water hauling services in Fort Saskatchewan, Edmonton and area. We ensure a thorough cleaning with all our vacuum units and provide service for septic tanks, holding tanks and waste tanks.
Gallason serves commercial, industrial and residential clients.
Vacuum Truck Services:
Septic & Holding Tank Cleaning
Commercial Sump Cleaning
Carwash Sumps
Flood Clean-up
General Vacuum Truck Services
Water Truck Services:
Drinking Water
Acreage and Residential Water
Construction
General Water Hauling
3000 gallon water trucks available to transfer clean potable water to any industrial, residential or commercial sites.
Vacuum trucks available for residential or commercial septics. Emergency septics will be prioritized.
If you find yourself with a full or overflowing sewer, we'll work out a plan to get things back to normal.
Our 3-inch line will handle almost any material there may be in your sump. Give us a call for more information.
We empty grease traps on residential, commercial or industrial sites. *Includes Restaurants
Any vacuum service that isn't listed here could also be accepted. We will tackle almost any job, big or small.